Thank you for you interest in our valves, follow is brief introduction of this prodcut,welcome to contact us for any other technical information or latest price.

1. Brief introduction of Cast Iron Bottom Valve
Cast Iron Bottom Valve
is actually a kind of check valve, which plays a role in preventing water from backflow.
At the end of the valve can be divided by material of plastic and metal valve, valve can be divided into the general valve and the bottom valve of washing water.
The bottom valve is mainly applied to mechanical equipment for slurry treatment, such as pumps. Usually, the bottom valve will be installed at the bottom of the pump suction pipe to prevent slurry backflow.
2. Structure of Cast Iron Bottom Valve:
At the end of the valve in the valve cover there is a plurality of water inlet, and is equipped with a screen, in order to reduce debris flows, reduce the blocking probability of the valve. Although the bottom valve is equipped with an anti clogging screen, the bottom valve is generally suitable for cleaning media, and the medium with high viscosity and particles is not suitable for using the bottom valve.
The bottom valve is a kind of energy saving valve. It is usually installed at the bottom end of the pump suction pipe, which limits the liquid in the pump pipe to return to the water source and plays a function of only entering. There are many intake and reinforcing bars on the valve cover, which are not easy to block up, and are mainly applied to the pipeline for pumping. The function of water channel and support is single, double and multi flanges, with flange connection and threaded connection. Other names: inner thread lift bottom valve - bottom hole valve, water absorption valve, water filter valve, lotus head; lift bottom valve - flange bottom valve; swing bottom valve - Flanged swing bottom valve.
At the end of valve welding in the bottom of the container, which can achieve the best emptying, cleaning, disinfection effect. In addition, the working medium can be well mixed according to the technological requirements during operation. Tank bottom valve as close to the bottom of the tank wall, so as to achieve the effect of no dead ends.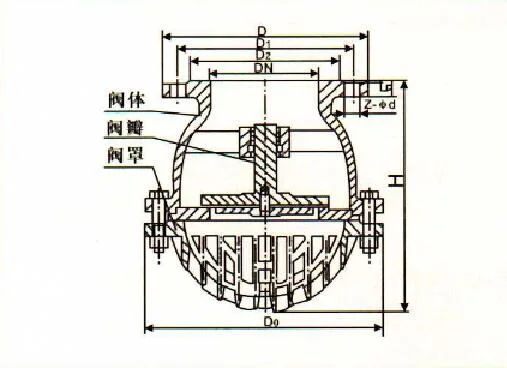 Model

DN(mm)

Dimension(mm)

Weight(kg)

D

D1

D2

b-f

Z-Φd

D0

h0

H

H42X-2.5

50

140

110

90

16-3

4-14

135

17

142

4

65

160

130

110

16-3

4-14

168

25

180

6.5

80

185

150

125

18-3

4-18

198

32

197

8.5

100

205

170

145

18-3

4-18

247

40

230

143.5

125

235

2500

175

20-3

8-18

272

43

270

18

150

260

225

200

20-3

8-18

315

38

297

24

200

315

280

255

22-3

8-18

405

65

382

38

250

370

335

310

24-3

12-18

465

84

460

64

300

435

395

262

24-4

12-23

510

90

530

98
3. About our Products:



WENZHOU SOLID MECHANICAL EQUIPMENT CO., LTD